Swoon is our April class
The dates for our April class are Friday, April 26, OR Saturday, April 27, 2013.  Our project for April is the pattern Swoon by Thimble Blossoms by Camille Roskelley.  I love this quilt!  It is old fashioned and modern all at the same time.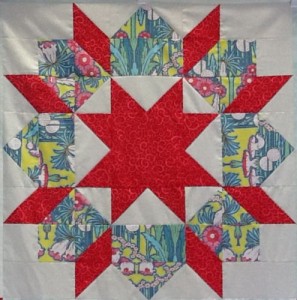 I have chosen some "Amy Butler" style prints mixed with reds, but this quilt would look good in any fabric combination.  Each block uses 2 fat quarters plus a background.  So, a good pattern choice to select fabrics from your stash.  Each block is 24″, so only 9 blocks will make a quilt.  Each block is made from quilting basics, half square triangles and flying geese units.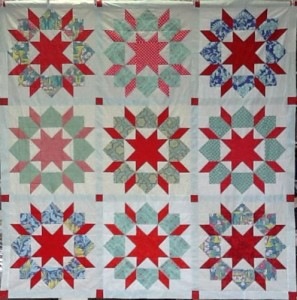 The cost of the class is $45.00.  That includes your class fee and your pattern.
In the afternoon, Cindy will be working on the second block of the Block of the Month series that we are working on.
Class starts at 10 am and finishes about 4 pm. The classes will be held at Cool Spring Methodist Church, 1902 Mocksville Rd, Cleveland, NC—that is Hwy. 64 about 8 miles East of Statesville, and is easily accessible from either I-77 or I-40.
As you know, eating lunch is an important part of the day. You bring a sandwich and we'll provide sides, chips, desert and tea.
To register for the class, call Cindy Page, 704-376-2531 to reserve your space.  The cost of the class is $35.00 if you already have your pattern.  If you need us to mail you a pattern then the cost of the class is $45.00.    After registering by phone or email (quiltgallery@bellsouth.net) mail checks to 224 Woodleaf Road, Cleveland, NC 27013. Payment is required at the time of registration to hold your space in the class. A supply list and directions to the venue will be emailed to you upon registration.
Hope to see you then.
Patti Cline and Cindy Page
Email: quiltgallery@bellsouth.net