Tulip Crosses is our March Class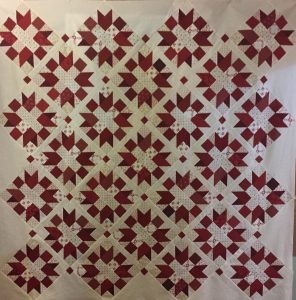 Tulips Crosses by Acorn Quilt and gift Company will be our March class. The dates are Friday, March 30, or Saturday, March 31. The cost of the class is $35.00. Pattern fee is $10.00.
Keeping with our red and white theme, this very traditional quilt can be two colors, scrappy, batiks or any combination with good contrast. I did mine in scrappy red and white prints and used one subtle red on white print for my background. It still needs a border. I am going to add a wide border in the same background fabric.
In class we will make one block, learning how to make 1/2 squares and flippy corners. We will also cover diagonal sets. You can pull your test square out of your stash.
Class will once again be held at Cool Spring UMC, 1902 Mocksville Highway, Cleveland, NC…Hwy. 64, east of Statesville. The church is easily accessible from I-40 or I-77.
Class will be from 10 am-4 pm but we have the church open by 9 am so you can get set up and have a cup of coffee before we begin at 10 am.
As you know, eating lunch is an important part of the day. You bring a sandwich and we'll provide sides, chips, desert and tea.
Be sure to bring your "show and tell" quilts.
To register for the class, call Cindy Page, 704-376-2531 to reserve your space, then mail a check made to The Quilter's Gallery to 224 Woodleaf Road, Cleveland, NC 27013. Payment is required at the time of registration to hold your space in the class.
Website: www.quiltersgallery.net
Email: quiltgallery@bellsouth.net