April Newsletter – Kaleidoscope and 15 Degrees
We are ready for spring and we are beginning new quilting projects as the days get longer-just means more time to sew.
We are trying something a little different this month. Because we have quilters who missed a particular project on it's first presentation we are going to do some repeats, hoping you can catch the class this time around.
On
Thursday, April 19, 2018
Patti will teach her 15 degree quilt,
Round and Round
.
Class fee $35. plus $12.ruler, kit optional.
There is a handout for this class.
This is a fast and fun project for any skill level. Even though it appears to be circles, all the piecing is straight line sewing using strip sets. Why not give it a try? Each student will need a "Stack and Whack" 15 degree ruler which can be purchased the day of the class. Precutting instructions will be sent after you register. If you want to make things really simple, you can purchase a fabric kit for $8.00. Many fabrics to choose from. Already cut. Each kit is enough for 2 blocks. You just need a machine with a 1/4 in. foot, neutral thread, pins, basic cutter and mat.
On
Friday, April 20 or Saturday, April 21, 2018
we are doing a quilt we are calling
Cheerio!
Class fee is $35. There will be a handout for this project.
We are taking another look at Kaleidoscope quilts. We use Marti Michell's Kaleido-Ruler ($18.95) and her book, Kaleidoscope ABC's ($20.00). Both are great additions to your quilting library and tool collection and will be available the day of class.
Yes, all the blocks are pinned together
but I have weeks to finish it before class. As you have heard us say, we like to use our rulers for several projects to "get our money's worth". This is another kaleidoscope variation using Marti Michell's Kaleido-Ruler. It's really scrappy so you can start pulling fabrics from your stash now. Both circles and background have many fabrics, many colors—the more the merrier—remember contrast, light and dark.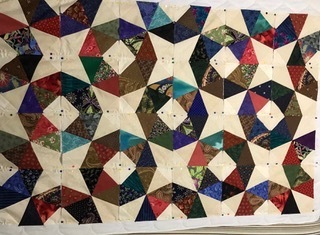 To keep things lively, I will also demo a basic kaleidoscope block and show samples of the quilts we have made using this ruler. This one is also scrappy using only 2 colors but many fabrics. This quilt and the next quilt are in Marti Michell's kaleidoscope book.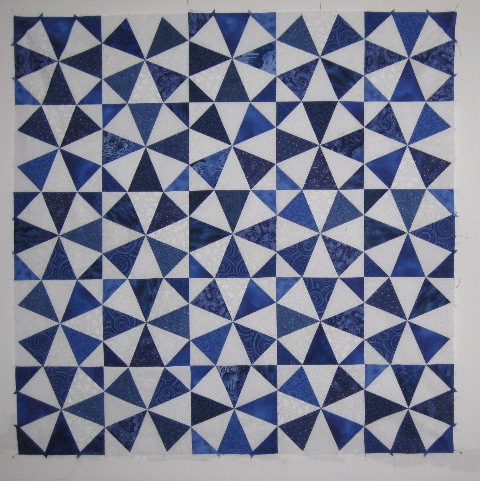 If the first 2 projects aren't enough to motivate you to try a kaleidoscope quilt, I will also demo how to do a "stack and whack", fussy cut, focus cut or whatever you call it, giving the blocks a real kaleidoscope look.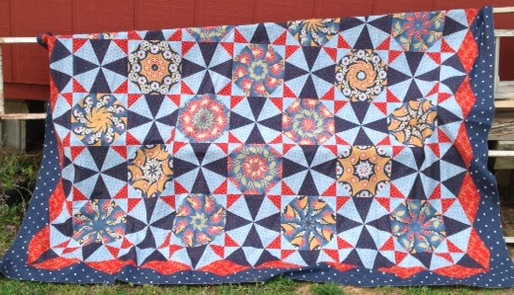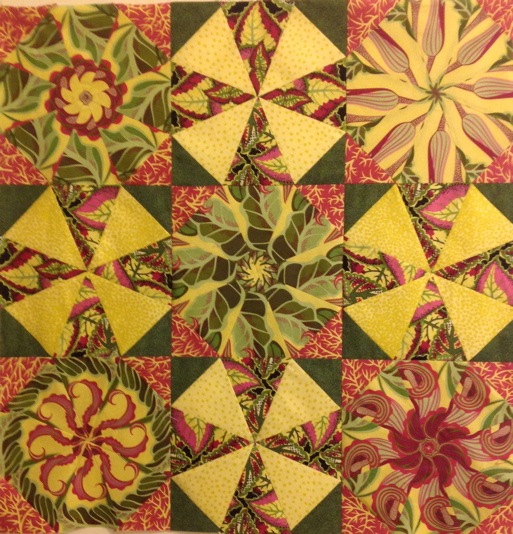 This is a fun quilt to make so plan to spend the day with us learning new piecing skills.
Bring your sewing machine, your 1/4" foot, (preferably without a side bar), neutral thread, basic sewing tools.
Bring your "Show and Tell". We love to see what you are working on.
Class starts at 10 am and finishes about 4 pm but we'll have the building open at 9:00 am so plan to arrive in time to have a cup of coffee and set up so we'll be ready to start at 10:00 am. The class will be held at Cool Spring Methodist Church, 1902 Mocksville Rd, Cleveland, NC—that is Hwy. 64 about 8 miles East of Statesville, and is easily accessible from either I-77 or I-40.
As you know, eating lunch is an important part of the day. Bring a sandwich, or your favorite potluck recipe, and we'll provide sides, chips, and tea. Quilters are good cooks too so there is always plenty to share.
If you can't join us for the class, remember we are "Open" for shopping.
For those of you who want to join us for a class but have to travel a long distance, we invite you to make
it your own mini retreat. Come with all your friends to the Friday class and stay to sew with us all day Saturday (no additional charge for Saturday). Two days of sewing without a lot of interruptions!
YARD SALE! It's almost time for our annual church yard sale. If you have things you'd like to donate to the sale bring them with you on class day—we will take anything! The dates of the sale are Friday, May 4 and Saturday, May 5, 2018 from 7:00 am-1:00 pm both days. There is always good stuff! We also have a bake sale—that alone is worth the trip. There are several wonderful gardeners in our church who will have plants for sale—heirloom tomatoes along with many other varieties, other veggies, flowering plants, aloe, succulents of all kinds, much more. If there is something you've been looking for let us know and we'll ask if somebody can divide their plants to have available for you. We usually have a variety of exercise equipment—always at a bargain price—that we can almost guarantee has never been used!!! A treadmill is the perfect place to sort your strip sets.
The Quilting Expo in Columbia, SC – July 20 and 21, 2018
The Quilting and Fiber Marketplace in Sanford, NC – Friday, Jan. 11 and Saturday, Jan 12, 2019
The Quilting and Needle Art Extravaganza in Statesville, NC – Friday, Jan. 25 and Saturday, Jan 26, 2019