August, September and October Classes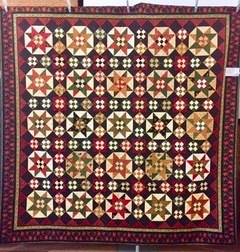 Here is our quilt for the August class.  The name of this quilt is Birdseye from Miss Rosie's Farmhouse Favorites book.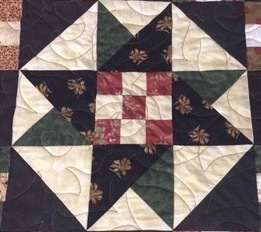 The dates for the class are Friday, August 23 or Saturday, August 24, 2019. Time – 10am – 4pm. Cost for the class is $35.00. We recommend that you purchase the book, but I will be sending basic cutting instructions for one block when you register for the class. We'll be focusing on fast piecing quarter squares where all the units need to be the same (not mirror image).
Bring your sewing machine, your 1/4" foot, (preferably without a side bar), neutral thread, basic sewing tools. Specific information for fabric requirements and cutting information will be sent after you sign up. You can get the book when you come to class. This design used to be published as a single pattern and we have a couple of patterns left but you'll need to let me know fast if you want only the pattern…first come basis!You can make a block or two in class then make a plan and collect fabrics for your quilt. You can pull fabrics from your stash for your sample blocks to make it easy.
Mrs. Lincoln by Carol Hopkins from Vintage Legacies
Our September class, Friday, September 20 or Saturday, September 21, 2019 will be Mrs. Lincoln from  the book Vintage Legacies by Carol Hopkins.  This block contains half-squares, quarter-squares, flying geese and "flippy corners".  Here's the first block…more to come!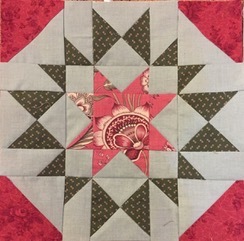 We are adding a special class Friday, October 4 or Saturday, October 5, 2019 that we are calling Quilter's Bootcamp.
If you have friends who have always wanted to learn to quilt, this is a chance for them to learn a few tricks that will make piecing less intimidating, more accurate and a lot of fun.It's going to a comprehensive notebook class, with participants sewing samples of each technique to put in their notebook and take home for reference.  It's going to cover many things you wish you had known earlier in your quilting career-concepts that make your piecing easier, faster, more accurate!Fabric prep, cutting, 1/4" seams, half-square triangles, quarter-square triangles, flying geese and more, if time allows.  You must have a 1/4" foot, without a side blade!!! Check with your local dealer, go on line, find one that is designed to work with your machine.  We have some feet in stock but I can't guarantee which machines they fit so search until you find the right foot for your specific brand of machine.  Everything in piecing is based on a 1/4" seam so simplify your life by purchasing the right kind of foot. You have plenty of time to get a proper foot before class.You'll need to bring your sewing machine, basic sewing supplies, neutral color thread, etc.  I'll send a specific supply list when you sign up. Class will be 10:00am-4:00pm, $50, which will cover the class fee, handouts and fabric for sewing the samples.  Again, this would be a good class for beginners or for those of us who could use a class to "tune up" our skills.
October class is Advanced Kaleidoscope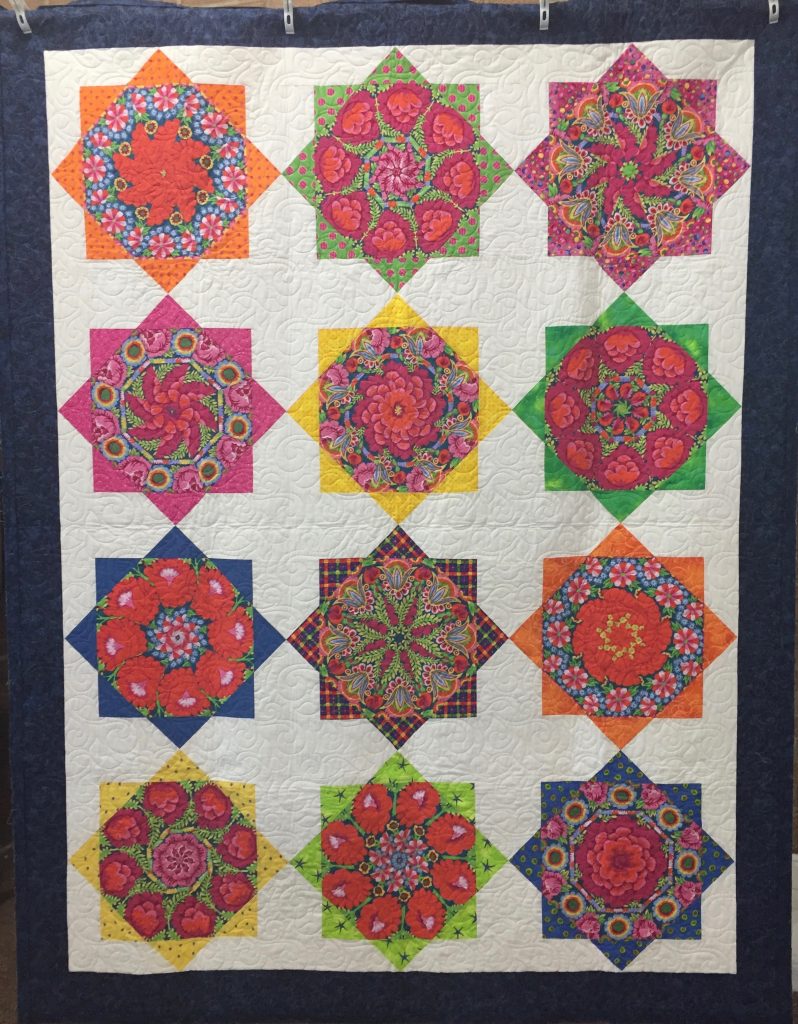 Our other, regularly scheduled,  October class will be Friday, October 18 or Saturday, October 19, 2019.  10:00am-4:00pm. This class will be an advanced kaleidoscope quilt, fussy cutting the fabric to make really interesting blocks.  All the blocks in my sample werecut from this one Kaffe Fascett striped fabric.  You'll probably be able to pull the fabric for the points from your stash as each set of 8 points only takes about a fat-eighth.  Star points need high contrast to the background. Batiks are not appropriate for this project because they are hand printed and the registry is not perfectly aligned. We are announcing this class early so you have time to find a fun fabric to work with.I'll provide more information about fabric requirements and other supplies you'll need when you register for this class. We have lots of wonderful large scale fabrics in stock that would be perfect for this project!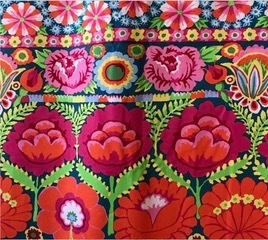 Bring your "Show and Tell".  Finished or unfinished, we love to see what you are working on.  
 If you have questions, call or text.  quiltersgallery@gmail.com,Patti's cell- (704) 807-6992,  Cindy's cell- (704) 376-2531
Class starts at 10:00 am and finishes about 4:00 pm but we'll have the building open at 9:00 am so plan to arrive in time to have a cup of coffee and set up so we'll be ready to start at 10:00 am.  The class will be held at Cool Spring Methodist Church, 1902 Mocksville Rd, Cleveland, NC—that is Hwy. 64 about 8 miles East of Statesville and is easily accessible from either I-77 or I-40.  (Cleveland is our mailing address…a rural route…we are not in Cleveland so don't let your GPS take you there!  If you need directions, call Cindy or Patti.)
As you know, eating lunch is an important part of the day.  Bring a sandwich, or your favorite potluck recipe, and we'll provide sides, chips, and tea.  Quilters are good cooks too so there is always plenty to share.
If you can't join us for the class, remember we are "Open" for shopping. We invite you to stop by and shop while the class is going on.  We can take you to "the barn".  That's where we keep batting, wide backs, other goodies.  Remember all our buttons from the store?  We still have those.  Lace, eyelet trim-it's there too. Just ask, and we'll pull them out for you.  We've been rearranging the barn and, like all cleaning/organizing adventures, we have a mess!  Hopefully, we will restore order within the next 2 weeks so you can visit "the barn" and find anything you are looking for.  We've even rearranged the fabric!