Classes for August and September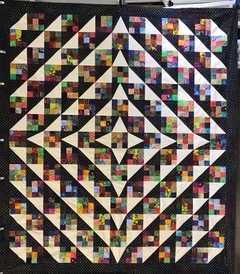 Nine Patch Stash Buster –

There are 3 parts to this one, 9-patch blocks, "Peaky & Spike" blocks and half-square triangles.

Once again, the 9-patch blocks can be pulled from your stash. Strips are cut 2 1/2", so gather your short yardage pieces, Jelly Rolls, fat quarters and you can get started on this fun project.

Time: 10 am – 4 pm although we should have the church fellowship hall open about 9:00 am for coffee and set up.

Cost: $35. Cindy will have a handout.

Appropriate for any skill level.

Shimmer by Cluck, Cluck, Sew is our September class. Dates are Friday, Sept. 14 or Saturday, Sept. 15. Class fee is $35 plus pattern fee of $9.00. Just getting started on this one. Stay tuned.