Quilting in May
Class Dates – Friday, May 18 or Saturday, May 19, 2018.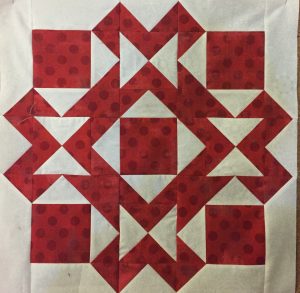 I love red and white quilts. I am planning another one for our May class. Here is my first block. I can't show you the whole quilt yet, but if you have a copy of Red and White Quilts – Infinite Variety, it is on page 228. They call it Evening Star or Morning Star Variation. It will be set on the diagonal and have lots of white space for beautiful quilting.
We are going to do big blocks – 20″ – so you will only need 9 for a large quilt. We are going to do several techniques… quarter squares, flying geese, flippy corners, and some basic template work. You can do fast cutting or use Marti Michelle's B Template for really exact piecing. Plan to join us. Make it two colors or scrap it up. Either way will be a beautiful quilt.
REMEMBER TO BRING SOMETHING FOR "SHOW AND TELL".
Class starts at 10 am and finishes about 4 pm but we'll have the building open at 9:00 am so plan to arrive in time to have a cup of coffee and set up so we'll be ready to start at 10:00 am. The class will be held at Cool Spring Methodist Church, 1902 Mocksville Rd, Cleveland, NC—that is Hwy. 64 about 8 miles East of Statesville, and is easily accessible from either I-77 or I-40.
Fabric Shopping
Can't make the class? You are welcome to come and shop for fabric while others are in class. All of prints and batiks are set up the the back of Fellowship Hall just like at a quilt show.
As you know, eating lunch is an important part of the day. Bring a sandwich, or your favorite recipe, and we'll provide sides, chips, desert and tea. Quilters are good cooks too so there is always plenty to share.

To register for the class, call Cindy Page, 704-376-2531 to reserve your space, then mail checks payable to The Quilter's Gallery to 224 Woodleaf Road, Cleveland, NC 27013. Payment is required at the time of registration to hold your space in the class. A supply list with directions to the venue will be emailed to you upon registration.
Also, bring some device that will take photographs of each step of the process.
Hope to see you then.