The Columbia Quilting Expo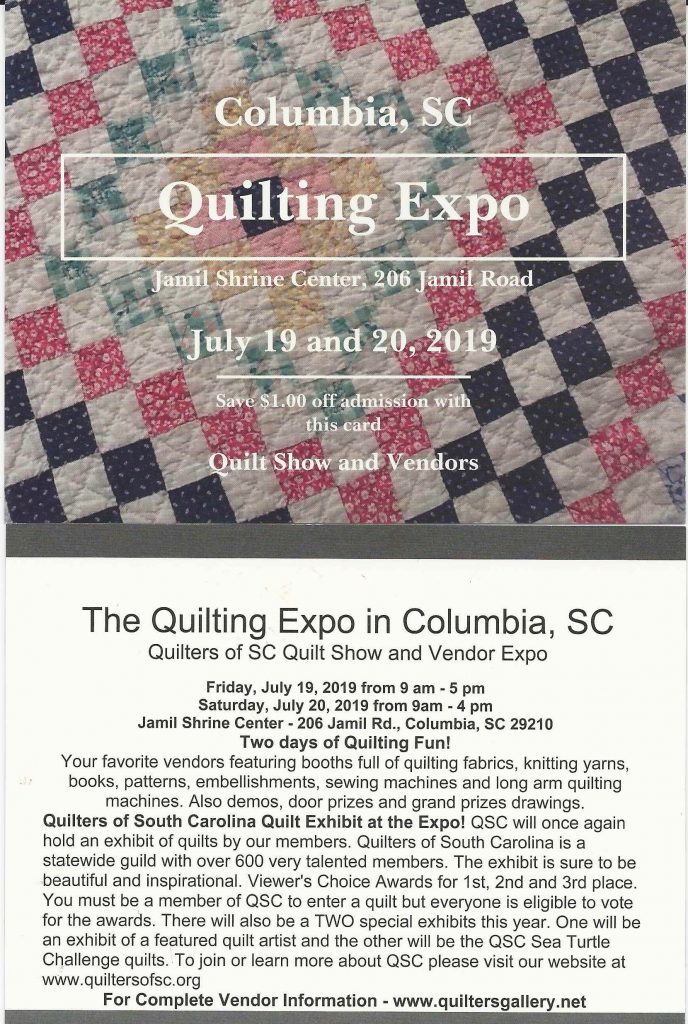 Vendors and Shopping
We are almost ready for next week's show. Our vendors are ready. We have 27 vendors with booths full of merchandise. Obviously, there will be lots of fabric, patterns and notions. There will be wools to "dye" for. All kinds of sewing machines will be there from little black Singers and starter sewing machines to "dream" machines that sew and embroider. You can test drive several brands of long arm machines. I am sure you can find a new project to keep you inside in the air conditioning.
Quilter's of South Carolina Quilt Show
This show grows each year. It's twice the size it was last year. More than 200 quilts will be on display. Featured artist, George Ann Rast, from Eutawville, will have a beautiful display of her work. A youth category has been added. We are excited to have young quilters recognized. There will also be a display of the Loggerhead Turtle Quilt Challenge. Several guilds will have raffle quilts and member displays. If you are looking for a guild in your area to help support your passion, members will be there to answer questions.
Quilts of Valor
Quilts of Valor will have a display of their quilts. This very active and hard working group deserves our support. SC quilters made and presented almost 20,000 quilts to Veterans last year. That is something to be proud of. Go SC!
Other Activities
The fun starts early. Be one of the first 100 people to purchase a ticket each morning and you will get 2 chances to win all day long. That's two times the chances to win door prizes all day and the sewing machine at 3 pm. You will also get twice the chances for the "Big Basket" of goodies that we give away on Saturday.
Early Bird Specials
From 9 – 10am each day some booths will have Early Bird Specials. They might pick a certain item to feature that first hour. Check the posters at the entry way to see what deals to shop for first. The Quilter's Gallery will have an "all day special" on our wide quilt backs and selected white and beige fabrics.
Sewing Machine Drawings
On Friday, Creative Sewing Machine Center from Columbia will be giving away a Baby Lock Ellure Plus. It has a MSRP of $3499. This is a sewing machine and an embroidery machine.
On Saturday, Sew Suite Studio will be giving away a JUKI HZL80 machine. It has a MSRP of $599.
The drawings will be at 3pm each day. You must be present to win a machine.
At the end of day on Saturday, we will draw from all our attendees for the winner of the big basket of goodies. You do not have to be present to win the basket.
Food!
What day out doesn't include food? We'll have a food truck again this year. Carolina Cookin' will be here with BBQ, yummy chicken salad, Po' Boys, Cheese grits and more. AND, we heard you last year, so there will be a desert truck. Front Porch Sweets will be on board with yummy baked goods and cold drinks.

Admission
Print the postcard above for $1.00 off admission. Or just show it on your cell phone. Copy and send it to your friends. Post it on FB. Admission is $8.00. You can also get a two day wrist band for $10.00. Stay in Columbia. Spend the weekend with us.
Help us spread the word about The Columbia Quilting Expo.

Join us next week. Support local shops and small businesses. Visit with your quilting friends. We always have a great crowd on Friday. Bring your friends, your mama, and all your cousins and come on Saturday too. Show them the best SC quilts. Show them what Quilts of Valor is about. Eat some delicious food. Buy more fabric and go home happy.

If you have questions, call or text. quiltersgallery@gmail.com,
Patti's cell- (704) 807-6992, Cindy's cell-(704)-376-2531