Fans in Formation is our class for February
Fans in Formation by Cindy Page
We are glad to be starting a new year of classes in Cool Spring. We have missed you! Hope you will be able to join us either Friday, February 16 or Saturday, February 17, 2018. Class is 10:00 am until 4:00 pm.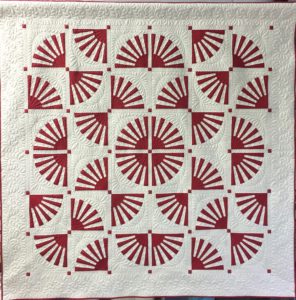 We have jumped on the red and white bandwagon. You are going to see a lot of two color quilts from us this year.
Class fee is $35.00. The pattern, which includes a template is $29.95.
Classes are held at Cool Spring UMC. 1902 Mocksville Highway, Cleveland, NC 27013. That about 6 miles east of Statesville on Hwy. 64.
Here are the dates for the rest of 2018. Remember, you can take classes on these dates, but you can always drop in and shop on these dates as well, so mark your calendar.Remember, dates can change. Church events, like weddings or funerals are priority. Give us a call if you are traveling from a distance.
Clases are taught on Friday or Saturday. Want to do your own little retreat weekend? Let us know if you want to spend the night in Statesville and sew both days. We will work that out for you.
March 30 or 31
April 20 or 21
May 18 or 19
June 22 or 23
July 27 or 28
Aug. 24 or 25
Sept. 14 or 15
Oct. 19 or 20
Nov. 16 or 17
Cindy will send supply lists when you register.
Class will once again be held at Cool Spring UMC, 1902 Mocksville Highway, Cleveland, NC…Hwy. 64, east of Statesville. The church is easily accessible from I-40 or I-77.
Class will be from 10 am-4 pm but we have the church open by 9 am so you can get set up and have a cup of coffee before we begin at 10 am.
As you know, eating lunch is an important part of the day. You bring a sandwich and we'll provide sides, chips, desert and tea.
Be sure to bring your "show and tell" quilts.
To register for the class, call Cindy Page, 704-376-2531 to reserve your space, then mail a check made to The Quilter's Gallery to 224 Woodleaf Road, Cleveland, NC 27013. Payment is required at the time of registration to hold your space in the class.
Website: www.quiltersgallery.net
Email: quiltgallery@bellsouth.net
Basic supplies you'll always need.
Pattern and Fabric
Sewing Machine with sewing surface/table extension. Bring your best machine.
1/4" foot (with no side blade)
Pins
Stiletto
Neutral color thread in a value that blends with the fabrics you choose.
Needles—size 10, 11 or 12
Scissors
Cushion to sit on
Surge protector
Bring an old magazine or calendar to organize your blocks.
Any questions? Give us a call, Cindy—704-376-2531 or Patti—704-807-6992.
Hope to see you soon.
Patti and Cindy
Email: quiltgallery@bellsouth.net