September Quilting Class – Mrs. Lincoln
This block contains half-squares, quarter-squares, flying geese and "flippy corners". Here's the first block…more to come!
Mrs. Lincoln from the book Vintage Legacies by Carol Hopkins
September dates are Friday the 20th OR Saturday the 21st, 2019.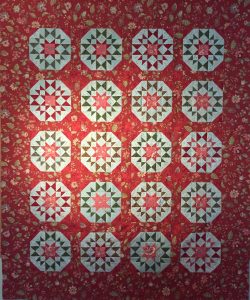 I saw this quilt on the cover of this book in an advertisement and knew I had to make it. Sometimes quilts just talk to you. Join us on Friday, September 20 or Saturday, September 21, 2019 at 10am for class. We'll make one block and cover a lot of basic techniques. We'll make 1/2 squares, 1/4 squares, flying geese and "flippy corners". And then – we'll make all those fit together. Make one block or make lots of blocks – whatever suits you. Class is $35.00. This quilt is from the book Vintage Legacies by Carol Hopkins. We recommend that you buy the book. We are going to do several other quilts out of this book. We have the books in stock. You can get it on class day. In the meantime, once you register for class, I will send you cutting instructions for the block. You can make it the size that the book covers, which is a 10" block or make it bigger. I will send several different sizes from which to choose.
You will need for class:
Your machine and a 1/4" foot without a side blade. (We have some feet, but check with your dealer. Bernina people bring #37)
Your precut block and basic sewing notions. If you are new to cutting, we'll help you get started.
Your lunch or a dish to share.
Show and Tell – we love to see what you are doing.
Class will once again be held at Cool Spring UMC, 1902 Mocksville Highway, Cleveland, NC…Hwy. 64, east of Statesville. The church is easily accessible from I-40 or I-77.
Be sure to bring something for "show and tell".
If you can't come for the class, then just stop by for some shopping.
Class will be from 10 am-4 pm but we have the church open by 9 am so you can get set up and have a cup of coffee before we begin at 10 am.
As you know, eating lunch is an important part of the day. You bring a sandwich and we'll provide sides, chips, desert and tea.
To register for the class, call Cindy Page, 704-376-2531 to reserve your space, then mail a check made to The Quilter's Gallery to 224 Woodleaf Road, Cleveland, NC 27013. Payment is required at the time of registration to hold your space in the class.
Basic supplies you'll always need.
Sewing Machine with sewing surface/table extension. Bring your best machine.
1/4" foot (with no side blade)
Neutral color thread in a value that blends with the fabrics you choose.
Needles—size 10, 11 or 12
Any questions? Give us a call, Cindy—704-376-2531 or Patti—704-807-6992.
Hope to see you soon.
Patti and Cindy