The Quilting and Fiber Art Marketplace – Directions, Vendors, and Hotel Info
The Quilting and Fiber Art Marketplace
Friday, Jan. 12 and Saturday. Jan. 13, 2024
9 am – 4 pm on Friday and 9 am – 4 pm on Saturday
Dennis Wicker Civic Center
1801 Nash St.
 Sanford, NC 27330
$5.00 admission – Good news! No more coupons.  Just bring $5.00
One stop shopping for the best vendors from NC and SC.  This is our 12th year for this show and we get better every year.  We have tried to bring you the best local and specialty shops available.  Save your gas and spend the day shopping with a variety of vendors.  This is not a "shop hop" but a shopping stroll.  Take your time and browse with all our merchants.  You will see lots of fabrics, yarns, books and patterns.  Several quilt shops will be here with quilting supplies.  Vendors with wool and floss for stitchery, will be here also.  Are you shopping for a sewing machine or a long arm quilting machine? There will be more choices than ever before.
We can shop and be safe. If you are worried about a crowd, Saturdays are not as crowded as Fridays and afternoons are much less crowded that mornings.  
The Early Bird will get the Worm!  
Again this year! Early Bird Specials!
Get to the show by 9 am for specials and chances to WIN!  The first 100 people to buy an admission ticket each day will get two chances to win all day long.  So, that is two chances for hourly door prizes, two chances for the daily grand prize drawing.
Many of the vendors will be featuring "early bird specials" on selected items from 9 am to 10 am.  Many of your favorite vendors will be here and some new vendors that you will love!
Each day at 3pm we will have a drawing for a grand prize.  It might be a sewing machine or a big basket of goodies.  
On Friday at 3pm, Capital Sew and Quilt will be giving away a sewing machine.
On Saturday at 3pm, Sew There! Quilts and more will be giving away a sewing machine.  
In order to win a door prize, you must have your entry in the box for the drawing.  You must be present to win.  If you really want to win, the first 100 people in the door each morning with get two chances to win that day. All entries collected throughout the day will be entered to win hourly door prizes and the big prize drawings at 3 pm each day.  You must be present to win.  If you can't make it early in the morning, come after lunch.  The lunch.  the crowds are less and you can enjoy the show and maybe win a prize.
If you don't win a machine, then test drive any of the several machines that will be displayed.  Sewing machines, embroidery machines and long arm quilting machines with be featured so that you can shop and compare without having to drive from shop to shop. 
So get up early, pack your car with your sewing and knitting friends and join us for a fun day.  Gigi's Cathering from Sanford will be doing our early morning food and lunch, so you can have a coffee and something delicious to get you started and then some fabulous chicken salad and some delicious cake for lunch to keep you inspired and shopping all afternoon.
Our list of vendors follows on this page, but there will be wools for appliqué and stitchery supplies. Quilting patterns will be available from many sources, some from the designers themselves.  Local quilt shops like Quilts Like Crazy and Find X Designs want you to see what they have to offer.  Other shops like The Cotton Quilt feature a variety of fabrics, especially Civil War and Feedsack fabrics. Fiber lovers will enjoy Alpaca products from Empty Pocket Alpaca Farm.  If you are shopping for a sewing machine, there will be several sewing machine dealers on site.  You can sew on everything from a tiny Singer Featherweight to several brands of long arm quilting machines.  
We promise you will leave inspired and well fed. Whether you are looking for a small project or a large one, you will find something at the QFAM.
https://www.dawcc.com/contact.cfm.  This page has a map.
For additional information contact
The Quilter's Gallery
call 704-376-2531 (Cindy) or  704-807-6992 (Patti)
2024 Vendor List
Bull Town Fabrics
Durham, NC
919-355-4900
Web – bulltownfabrics.com
Fabrics – Yardage, precuts, charm packs, books, notions and patterns. Also Australian, Japanese and African fabrics.
Capital Sew and Quilt
107 Edinburgh S. Dr. Ste. 111
Cary, NC 27511
919-377-1259
Email – Capitalsewandquilt@gmail.com
Web – www.capitalsewandquilt.com
Brother and Juki sewing machines
Cary Quilting Company
935 N. Harrison Ave., Cary, NC
919-238-9739
Precuts. kits, patterns, books, bags, unique notions, gift items and more!
The Cotton Quilt
4900 Troy Road, Granite Falls, NC 28630
828-244-7794
Fabrics and fat quarters, wide backing, 5 yard bundles, fabric, books, wholecloth quilts. Also wide backings. 30?s and 1800's.  TCQ was featured as a Quilt Sampler Shop in 2019.
Dave's Cedar Creations
Sanford, NC
530-519-0049
Mushrooms carved from cedar and hickory logs with a chainsaw.  They are sanded and sealed.  They can be used inside or outside.  
Susan Edmonson Designs
Concord, NC
704-305-1984
Original patterns, hand-dyed threads from Germany, hand-dyed fabrics, trims, vintage pincushions, hand made jewelry and more!
Empty Pockets Alpaca Farm
Diane Adams
Climax, NC 27233
336-674-3334
Award winning alpaca yarn from our animals raised in NC.  Yarn available in natural colors as well as hand dyed colors.  Alpaca wearable items such as socks, hats, scarves and shawls. 
Epicurean Boutique
Occoquan, Va
703-615-6183
Email – patty@epicureanboutique.com
Web – www.epicureanboutique.etsy.com
Epicurean Boutique is all about handwork!  We specialize in providing wool patterns to make penny rugs, table mats and small wall/quilt projects. I carry a wide variety of hand-dyed wools (sold as F16, F8, Fat Qtr, Long Qtr cuts) and virgin woolens off the bolt. I carry hand-dyed wool kits and patterns from Chic Stitch Designs, Primitive Gatherings, Horse and Buggy Country and Sew Cherished. I also carry patterns and kits by Bareroots to make small table mats and decorative crafts. I carry silk matka, linen and other types of fabrics that are great foundations for the stitchery patterns that I carry. I carry Punchneedle supplies and patterns by Threads that Bind including weavers cloth (if you want to design your own Pattern). I also carry patterns featuring the following designers:  Wooden Spool Designs, Cath's Pennies, and Cottonwood Creations.  Stop by my booth – you'll LOVE it!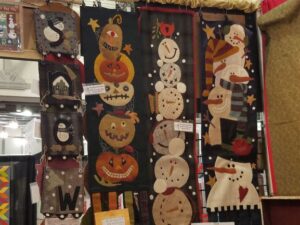 Featherweight Poppy
Salisbury, NC
704-639-1326
Singer 221 and 222 Featherweight sewing machines, parts and supplies.  Featherweight servicing during the show. Contact John for an appointment.
Find X Designs
 Sanford, NC 27330
919-770-2366
Fabric, cotton fat quarters, kits, Pfaff  sewing machines.
Lavender and Old Lace
Chapel Hill, NC
336-395-4252
https://www.etsy.com/shop/lavenderandoldlaceco
Vintage textiles for quilting.  Vintage hankies, quilt tops, quilt pieces, embroidered appliqués, vintage sheet and chenille bundles and lavender sachets.
Loving Stitches
7076 Ramsey St, Fayetteville, NC 28311
910-630-3912
Bernina sewing machines, embroidery machines, and long arm quilting machines. Also full service quilting supplies.  Fabric, notions, rulers, accuquilt, threads
Martelli's Notions  
Quilting fabrics by Maywood, Andover and Windham.
Quilter's Gallery
Cleveland, NC
704-376-2531 or 704-807-6992
We'll have plenty of our freshly made Fabric Pizzas and our new 1/2 yard fabric "flatbreads".  Quilting kits, rulers, patterns and templates. Lots of fabric – prints and batiks.
Quiltricks
Cary, NC
Original quilt patterns, featuring "quiltlet" trios, seasonal "woolies, purses, wallets, table runners, wallhangings and full size quilts.
Quilts Like Crazy
Holly Springs, NC
919-418-1239
Shapewear, athleisure and leggings.  Visit us to "Ditch that bra".
Schoolhouse Quilts
399 Sunset Memorial Rd.
Forest City, NC 28043
828-245-9774
You can find supplies that meet the needs of the beginner to the art quilter at SHQ.  Our shop is the quilting "hardware" store as well as a "library" book selection that is second to none.  This booth is always well stocked and always packed. 
Sew Beautifully Creative
Graham, NC
607-351-5873
sewbeautifullycreative@gmail.com
Pre-cuts, doll clothes to fit Americn girl and Bitty Baby.  Quilted/embroidered notebooks
Sew There! Quilts and More, LLC
Angier, NC
Email – sewtherequiltsandmore@gmail.com
919-331-2499
Janome sewing machines, precuts and books.
Sew2gether Quilting
Spruce Pine, NC\801-231-1578
https://www.sew2getherquilting.com
Quilting fabric, wide backs and notions.
Sew Happy Studios
High Point, NC
336-624-7904
https://www.sewhappystudios.com
All your quilting needs – fabrics, patterns, books, precuts and 3 yard quilts.  We also offer long arm quilting services.  visit our booth and start your quilting adventure today.
U Can Quilt
Raleigh, NC
919-630-8591
Pre-measured, custom cut quilt kits, designed so you can quilt and sew.  Each packaged in a special "container".
US Fabric Shop
Fuquay-Varina, NC
919-819-5534 or 919-586-6400
Fabric and lots of it.
Wingspan Crafts
Mebane, NC
207-671-9501
Auntie's Two Patterns.  Bosal interfacing and batting.  Fabrics Hoffman, In the Beginning and OT fabrics.  handbag zippers.
Whatever's Quilted
Wood Quilt Blocks
Manassas, Va.
703-794-0336
Wood marquetry in quilt patterns as jewelry, all hangings, ornaments and clocks.  Also wood turned seam rippers and tools.