March Quilting Class – Right Hand, Left Hand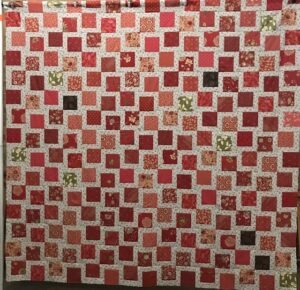 Right Hand, Left Hand
Dates for the class are Friday, March 24 or Saturday, March 25, 2023.  
Class fee is $38.00.  
This is a simple "stash buster" quilt.  All levels of sewing expertise are welcome.  We will cover lots of basic info for beginners and more experienced sewers can start turning out blocks.  
The classes will be held at Cool Spring  Church, 1902 Mocksville Rd, Cleveland, NC—that is Hwy. 64 about 8 miles East of Statesville, and is easily accessible from either I-77 or I-40.

As you know, eating lunch is an important part of the day.  You bring a sandwich and we'll provide sides, chips, desert and tea.
Bring "Show and Tell" for everyone to enjoy.
To register for the class, call Cindy Page, 704-376-2531 to reserve your space, then mail checks to 224 Woodleaf Road, Cleveland, NC  27013.  Payment is required at the time of registration to hold your space in the class.  A supply list and directions to the venue will be emailed to you upon registration.
Hope to see you then.
Patti Cline and Cindy Page