July Quilting Class
Flag Quilt
The dates for this class are Friday, July 27, 2018 OR Saturday, July 28, 2018.
Class fee is $35.00.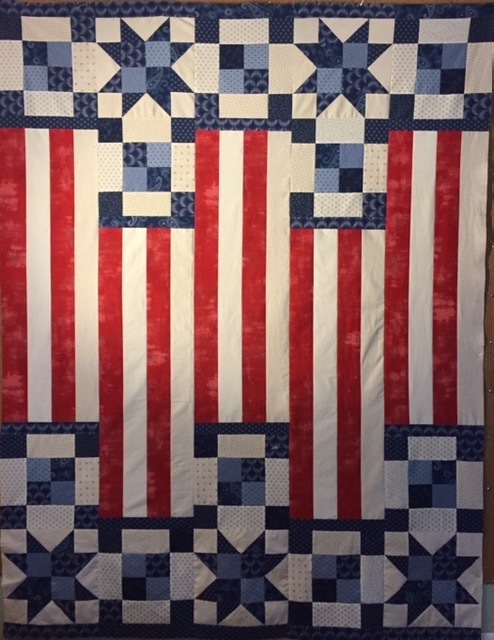 I have always admired the work that Quilts of Valor volunteer quilters do. I plan to donate this quilt to their project. Perhaps you would like to join us for class in July and make your own Flag Quilt to keep or give to someone very special.
This quilt is simple stars, some basic checkerboards and long red and white strips. This is simple enough for a beginner, but quick enough for a more advanced quilter to sew up pretty fast.
Bring something for show and tell.
Class starts at 10 am and finishes about 4 pm. The classes will be held at Cool Spring Methodist Church, 1902 Mocksville Rd, Cleveland, NC—that is Hwy. 64 about 8 miles East of Statesville, and is easily accessible from either I-77 or I-40. As you know, eating lunch is an important part of the day. Bring a sandwich or a covered dish and we'll provide sides, chips, desert and tea. There is always plenty to share.
To register for the class, call Cindy Page, 704-376-2531 to reserve your space, then mail checks payable to The Quilter's Gallery to 224 Woodleaf Road, Cleveland, NC 27013. This class is $35.00. Payment is required at the time of registration to hold your space in the class. A supply list/cutting instructions and directions to the venue will be emailed to you upon registration.
Hope to see you in July,
Patti Cline and Cindy Page
www.quiltersgallery.net
Email: quiltgallery@bellsouth.net