May Quilting Class – Go Fly A Kite
We love a scrap quilt and we love anything that uses a new shape.  The title of this class is Go Fly a Kite.  The dates for the May classes are: Friday, May 17 OR Saturday, May 18, 2013.  The class is $35.00.  This is the class fee and includes the class handout.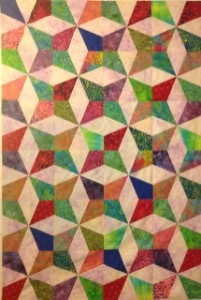 Many of you already have the kite ruler we used…it's the one Patti used in the String Piecing/Spiderweb class. It's $14.00 (plus postage and tax) and we can mail it to you along with cutting instructions in time to get your cutting started. Choose a background and then pull contrasting fabrics from your stash.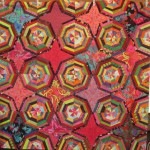 Remember this quilt?  The String Quilt/Spider Web?  This quilt uses the same template as Go Fly A Kite.  In the afternoon, we will review the construction of this quilt.  Also, Cindy will continue demos on our block of the month, Vintage Memories.  It's a full day!
Class starts at 10 am and finishes about 4 pm.  The classes will be held at Cool Spring Methodist Church, 1902 Mocksville Rd, Cleveland, NC—that is Hwy. 64 about 8 miles East of Statesville, and is easily accessible from either I-77 or I-40.
The Sewing is fun, but many of our quilters say that lunch is the best part of the day.  Bring a sandwich and we will provide chips, tea and something sweet.  There is always plenty to share so come hungry.
To register for the class, call Cindy Page, 704-376-2531 to reserve your space, then mail checks to 224 Woodleaf Road, Cleveland, NC  27013.  Payment is required at the time of registration to hold your space in the class.  A supply list with directions to the venue will be emailed to you upon registration.
Hope to see you then.
Patti Cline and Cindy Page
Sewing Machine with sewing surface/table extension. Bring your best machine.

Regular presser foot or a walking foot

Pins

Stiletto

Thread -

Needles—12 or 14

Scissors

Cushion to sit on

Surge protector
Email:  quiltgallery@bellsouth.net